VLUTE applies cloud computing in management and training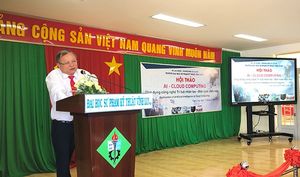 Cloud computing and its applications have had a strong impact on every field, including education. This has been proven effective in management and training activities at Vinh Long University of Technology and Education (VLUTE).
Many benefits in management and training.
According to Assoc. Phi Cao Hung, Rector of Vinh Long University of Technology Education, cloud computing technology in education has been applied by advanced countries and is considered an optimal solution, bringing effective results. high economic.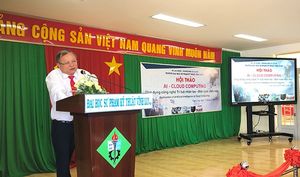 Assoc. Dr. Phi Cao Hung, Rector of Vinh Long University of Technology and Education speaks at the Workshop on Artificial Intelligence and Cloud computing being implemented at the university.
At VLUTE, with a team of information technology lecturers who have a lot of experience and ability to build, manage, operate, maintain and ensure information security, the University has chosen to self-deploy and manage information. operating management of the private cloud model (VLUTE-Cloud) to meet its flexible management and training requirements, and at the same time comply with the provisions of the law on ensuring information system security. Through cloud computing, the University can solve the problem of building infrastructure, software, and data storage. VLUTE-Cloud provides technology solutions with powerful, flexible, and cost-effective processing capacity to deploy information technology (IT) systems for educational activities, helping schools focus multiple resources to carry out the central task of teaching and research.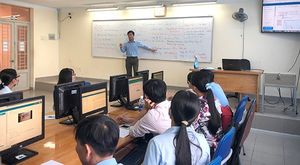 Faculty of IT provides training on cloud computing and E-Learning applications for lecturers
Thanks to cloud computing technology, the University has well solved the problem of allocating resources for big data processing (hardware and software), managing computer networks, allocating storage space conveniently, without any problems. providing them only with quality software, but also freeing learners from the burden of software licensing costs, powerful computers, etc. The main benefit of VLUTE-Cloud is its cost effectiveness. , the investment in hardware and software when using cloud computing is optimal because it meets the infrastructure needs of students, lecturers, researchers with some specific hardware and software configurations for specific tasks. VLUTE-Cloud not only provides teachers and learners with expensive specialized software that is hard to find online, but also frees learners from the burden of copyrighted software costs. It enables users to access applications, infrastructure and content anytime from anywhere; help students be open to new technologies, and at the same time protect the environment with green technology by saving electrical energy and limiting the emission of harmful energy to health.
PhD. Anh Cang Phan, Dean of the Faculty of Information Technology, the unit assigned to build and deploy applications on the VLUTE-Cloud private cloud platform, said: VLUTE has successfully built a private cloud service model. well solve the problem of allocating resources for big data processing (hardware and software), administering computer networks, and allocating storage space in a convenient way. Cloud computing services follow different service models such as platform as a service (PaaS), hosted as a service or software as a service (SaaS), infrastructure as a services (IaaS). SaaS is used in private clouds to provide support software for learners to exploit expensive specialized software that is hard to find online. It not only provides them with quality software, but also frees learners from the burden of software licensing costs, powerful computers,… IaaS and PaaS are used to meet the needs. infrastructure of students, faculty, and researchers with some specific hardware configuration for specific tasks.
With the use of a simple login system, students, research scholars, teachers can easily make inquiries and can use modern IT infrastructure. Because the strength of cloud computing is the service model of storing large-scale information, data related to different research work, projects or reusable information can be assigned to the cloud. managed storage and can be accessed on demand. The school can cooperate with other educational institutions to build an information repository (digital library, learning materials, scientific research works, …) according to the virtual centralized storage model to reduce costs. archiving to maintain educational data warehouses.
Some specific applications deployed on VLUTE-Cloud platform.
As a research and training university in the field of science, engineering and technology, starting from the academic year 2019-2020, Vinh Long University of Technical Education is one of the few pioneering schools in the application of cloud computing in the world. training such as computer lab for mobile practice, computer simulation room, E-learning online training, etc., bringing practical effectiveness in training.
Virtual computer room: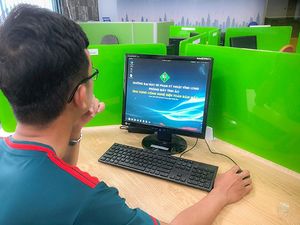 Students learn online with a virtual machine room based on VLUTE-Cloud
The VLUTE-Cloud-based virtual computer room has been put into use in some of the university's practical computer labs and the Internet search room for lecturers and students. According to the 2020 plan, the school will continue to deploy for all practical computer labs in specialized faculties. VLUTE-Cloud provides a virtual computer room service that can be accessed anytime, anywhere and on any device used by lecturers and students via the Internet. Unlike a physical PC, a virtual machine can be easily scaled down or configured, allowing for quick configuration changes, storage capacity, and additional support from IT staff, regardless of the position of teachers and students.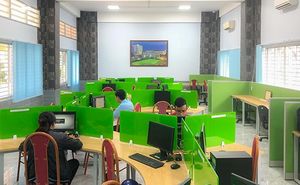 Virtual computer room based on private cloud VLUTE-Cloud
With the school's own cloud computing, lecturers and learners can easily connect using high-configuration computers and specialized software for research, teaching and learning at a low cost from 01 to 03 years. million through a compact connected device (Thin Client) or smartphone. Besides, the maintenance and upgrade of desktop computers, laptops as well as related software for the entire school is easy and low cost. Learners will be allocated resources on demand (can be used as the most powerful computers with Winows or Linux operating systems). In addition, VLUTE-Cloud-based virtual computer rooms significantly save electricity, contributing to environmental protection because they emit less toxic energy and have little impact on the health of teachers and learners. The results are recorded every month when this virtual machine room is put into use, the school has saved electricity costs by nearly 50 million VND/month/100 computers and thus annually saves more than half a billion VND in electricity bills for the use of electricity. using 100 computers excluding maintenance costs and other resources. Obviously, this is an environmentally friendly application when it has actually reduced paper waste, toxic energy, and improved efficiency.
E-learning online training on cloud platform: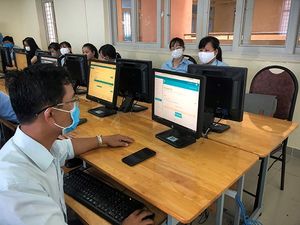 VLUTE instructors master technology in teaching
E-learning combined with cloud computing is becoming a trend due to the increasing demand for online learning and more urgent in the current complicated situation of the Covid-19 epidemic. Before the developments of the epidemic, the benefits of the E-learning system are clearly seen. Online teaching is deployed by the school for 100% of the theoretical courses and some practical courses from the second semester of the academic year 2019-2020. This is one of the solutions deployed by the school to aim at a school. smart university and implement the educational philosophy of "VLUTE, where there is no boundary between school and reality". With the organization of teaching all theoretical modules in order to strictly comply with the regulations of the Government and ministries in epidemic prevention and control. VLUTE's private cloud service model adapts flexibly to changes and can support the number of visitors and learners from 2,000 to 10,000 people a day, not limited by space and time. , ensuring the highest and stable computing capacity for the Elearning system.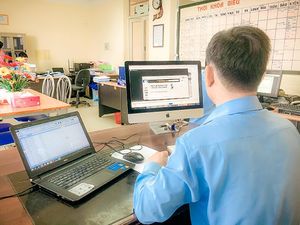 Online instructors with virtual machine room based on VLUTE-Cloud
Through E-learning, teachers can develop lessons, online classes, and lecture systems suitable for learners, thereby helping learners to study at home with easy-to-understand lectures and review. effective even though I can't go to class like in the current epidemic period.
With the great benefits brought by cloud computing technology, in the coming time, VLUTE will continue to promote the application of this technology in research, teaching and learning activities to create a friendly online learning environment. low cost to be able to keep up with world IT trends and create opportunities for students to have access to the most advanced and modern technology.