Tongmyong University (Korea)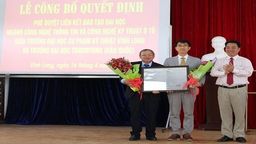 Students majoring in automotive engineering and information technology have the first 2 years of study in Vietnam and the last 2 years at Tongmyong University (Korea).
Vinh Long University of Technical Education (VLUTE) has just been licensed by the Ministry of Education and Training to train a 2+2 international joint program with Tongmyong University (TU) Korea.
Specifically, there are two university-level disciplines that are allowed to train, namely Information Technology and Automotive Engineering Technology with a total target of 600 students. In the joint training program, students will undergo phase one at VLUTE, duration of 2 years and must complete 70 credits of basic science; Korean culture and language reach TOPIK 3 level. Phase 2 also has a duration of 2 years; students will study at TU with 65 credits of foundation, major and graduation thesis.
Upon graduation, students will receive an engineering degree awarded by VLUTE and TU, which is globally valid. Students also learn about culture, education, socio-economics, science and technology of Vietnam and Korea; tuition and partner scholarships for VLUTE students. As a result, after graduating from school, they are equipped with knowledge and skills that can integrate well with the regional and global labor market.
With the enrollment of international joint training programs, VLUTE has created a modern learning environment, helping students choose a career easier and smarter. The training program is copyrighted and accredited by a reputable organization.
Teaching is conducted entirely in international languages; with the participation of foreign lecturers and leading Vietnamese lecturers with modern facilities; rich learning and activity support system…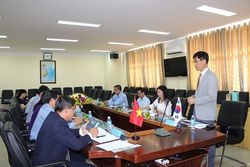 Associate professor, Dr. Cao Hung Phi – Rector of Vinh Long University of Technology and Education said that this is an important event, affirming the educational philosophy "there is no boundary between school and reality".
"From now on, students in the Mekong Delta and the whole southern region will have the conditions to study abroad with the most economic and efficiency. The tuition fee is almost equivalent to some universities in Ho Chi Minh City." he said.
Attending international standard joint training programs at Vietnamese universities is attracting a lot of attention from students. This is a good training and training environment, helping them to study according to international standards entirely in foreign languages, participate in many activities to accumulate knowledge and skills. After graduation, students can impress employers with their globally recognized qualifications, good foreign languages, adaptability and teamwork…